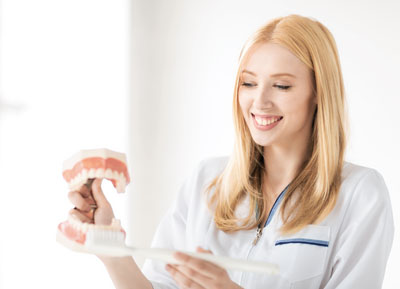 Most think that athletes are the only ones to wear mouth guards. In reality, mouth guards do much more than protect against physical contact from wayward athletes, balls, pucks, sticks, bats, gloves and rackets. Here is a look at the top five reasons to wear a mouth guard.
Mouth guard benefits
1. Mouth Guards can Prevent Tooth Fractures
One of the best reasons to wear a mouth guard is to prevent tooth fractures. Your mouth guard will serve as a rigid shield of protection. The last thing you need is for one or several teeth to break while playing sports. While it is possible to save a fractured tooth, it requires the use of white filling material and a possible root canal treatment.
However, the best approach to oral health is to wear a mouth guard to prevent an emergency visit to the dentist following a possible tooth fracture.
2. Mouth Guards Might Even Protect Against Concussions
There is plenty of debate as to whether mouth guards have the potential to prevent concussions. There is a growing number of people who believe the mouth guard serves as vitally important padding between the maxilla and the mandible. A hit in or near the mandible has the potential to push the skull toward the brain and greatly increase the chances of a concussion. It is possible the mouth guard helps prevent or at least reduce the likelihood of such a development.
3. Mouth Guards can Stop Tooth Displacement
If something hard strikes your mouth and your teeth are not protected with a mouth guard, there will be some problems. Such a forceful impact can lead to tooth displacement. It can also break one or several teeth. Wear a mouth guard and it will cushion the teeth and help distribute the force of the impact across the entirety of the teeth.
4. Combat Teeth Grinding With a Mouth Guard
Wear a mouth guard at night when sleeping and most prone to grind your teeth and it will provide an important layer of protection. This guard will preserve your tooth enamel, prevent the teeth from wearing down due to excessive friction and ultimately preserve the integrity of your teeth.
Keep in mind that if bruxism goes without treatment for an extended period of time, it can erode the teeth right through the enamel as well as the dentin all the way to the point that the pulp is exposed.
5. A Mouth Guard can Prevent Soft Tissue Injuries
If you watch basketball long enough, you will eventually see a player bite through his or her lip. This type of injury can be repaired with stitches yet it is completely avoidable. All you have to do is cover the sharp surfaces of your teeth with a mouth guard and you will not have to worry about soft tissue injuries. Furthermore, a mouth guard can help prevent injuries to the cheeks and tongue to boot.
Heres' the deal
Request a mouth guard consultation in our Marietta dental office here: https://www.drhai.com. Call us at (770) 239-2722 for more information from Ping Hai DDS.
---
Related Posts
May 1, 2017
Mouth guards will help ensure that you continue to have a great day, no matter what sport you play. Mouth guards can be customized to fit one's teeth and protect them from damage during sports. A …
---