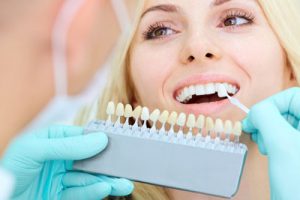 There are countless cosmetic dental treatments available to beautify flawed smiles yet porcelain veneers consistently emerge as the optimal solution. Porcelain veneers are the perfect treatment for misshapen and/or discolored teeth. Part of the appeal of porcelain veneers is they do more than merely temporarily alter the shade of the teeth. Porcelain veneers address underlying issues like chipping and cracking. Furthermore, these veneers are much more natural than other veneer types like the composite, zirconium and metallic varieties. As a result, porcelain veneers are primarily used on the front teeth that are highly visible upon the parting of the lips during a smile.
Change the Color of Your Smile With Porcelain Veneers
Meet with your dentist to select the correct porcelain veneer for your unique mouth and you might be taken aback by the number of available options. You can choose between different shapes, colors, and materials. Think carefully before selecting a color. You don't want a smile that is too bright or too dull. Your dentist can help you figure out which porcelain veneer shade will best match the shade of your surrounding teeth.
Porcelain veneer shades are based on bleaching categories ranging from BL1 to BL4. BL4 is four times as dark as BL1. Consult with your dentist to select the best shade for your mouth to conceal those intrinsic and extrinsic stains. Though some such stains are not responsive to whitening, covering them with porcelain veneers will produce a bright tooth surface that looks perfectly normal.
Porcelain Veneers can Change the Shape of Your Smile
Your dentist will also help you select the best porcelain veneer shape. The optimal shape for your porcelain veneers will not be the same as the ideal shape for another patient's veneers. Veneer shaping is primarily centered on the mouth's primary six teeth. These teeth are the two central incisors, the two lateral incisors, and canines. These teeth can be altered to appear more or less rounded or angular at both or one of the tooth corners.
It is also possible to shape lateral incisors at a specific length, be it longer or shorter, in relation to the central incisors' length. The canine teeth can be shaped to have a more subtle arc or straight edge. Each combination will create a distinct look that suits the aesthetic desires and facial composition of varying patients. Your dentist will help you determine the approach best for your smile.
Veneers Solve Those Subtle Rotation Issues
Veneers have the potential to correct issues with tooth rotation. Patients who have crooked teeth that are easily visible when smiling should consider porcelain veneers. This smile remedy is especially beneficial for those who are not enthusiastic about orthodontic solutions such as braces. Veneers create a tooth surface that is in complete harmony with the remaining normal teeth. The resulting smile will be bright and symmetrical.
Call us at (770) 239-2722 for more information from Ping Hai DDS or to schedule an appointment in our dentist office in Marietta.
---
Related Posts
April 17, 2017
As a dentist, we strive to clean our patients' teeth while also ensuring that their teeth remain healthy. Our aim is for our patients to retain their natural teeth for as long as possible. Preventative …
---