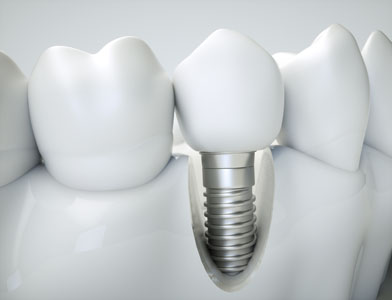 As a cosmetic dentist in Marietta, we can replace your teeth using dental implants. Tooth loss is something that impacts most people at some point in their lifetime. Even those who are fastidious about oral health may lose a tooth due to an accident, age, or infection. If you are in this situation, it is important to take the time to consider your options for tooth replacement. While many people get dentures due to how common they are, this is not the most durable solution.
Dental implants are the only solution that we surgically place on the jaw. A dental bridge replaces teeth on the outside of the gums after we secure it in place using dental crowns. While it is a durable and attractive solution, this will not replace the missing root. Dentures are also a dependable solution but can fall out at inopportune times and surround the gums. None of these solutions are as permanent as implants. For the patient who wants something that looks and feels like natural teeth, dental implants are the solution.
Dental Implant Options
Traditional implants
We typically use traditional implants when a patient has lost several, but not all, of their teeth. As a cosmetic dentist, we can provide traditional implants if the patient has enough bone density to support them. In this procedure, we implant and secure a titanium post to the jawbone. Through the process of osseointegration, the titanium and bone will fuse together to create a new root system that is just as durable as a natural one. While it can take several months for the process to complete, once it does, we will attach the new tooth to create a sturdy and aesthetically pleasing tooth. Patients can bite down with force and engage in high-impact activities without worrying about the tooth becoming loose.
Mini implants
If the patient does not have sufficient bone density for traditional implants, then it is important to consider mini implants. Mini dental implants are also strong and durable, but they are shorter, which means they do not have the same bone requirements. Mini implants often secure a set of dentures in place, which makes them ideal for situations where someone has full or complete tooth loss. Since it would take several sessions to place a traditional implant for each missing tooth, this can be completed much faster and often in only two or three appointments. Mini implants make it possible for you to have the smile you used to have, with a shorter recovery time.
As a cosmetic dentist, we can provide you with the right type of dental implants for your particular needs. To find out if you qualify for this procedure and which option is right for you, give our office a call at (770) 239-2722 and schedule a consultation so we can answer any questions you may have.
---
Related Posts
December 2, 2018
Dental implants are considered the most natural tooth replacement you can get because they look like your natural teeth and are very durable. Unlike dentures and dental bridges, which only replace the visible part of …
---