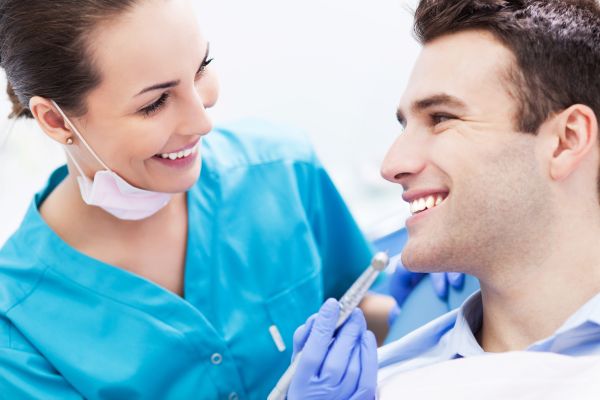 Dental implants are considered the most natural tooth replacement you can get because they look like your natural teeth and are very durable. Unlike dentures and dental bridges, which only replace the visible part of the crown, dental implants replicate the entire tooth structure, including the tooth roots.
Advantages of dental implants
Unlike implants, dentures and dental bridges are placed on the gums, which leaves the jawbone unstimulated and leads to loss of bone density, which in turn has negative effects. Without a root to stimulate the jawbone, the gradual loss of bone density affects your facial structure, which leads to facial sagging that makes you look older than you are.
Dental implants require a titanium post, which acts as a tooth root to be fused to your jawbone, allowing you to maintain your facial structure because the jawbone is being stimulated by the titanium post.
The false tooth that is used to replace the missing tooth is screwed on to the titanium post, similar to the way your teeth are attached to their roots, making implants as close as possible to having your natural teeth.
That's not all …
Due to the ability of the implants to mimic your biological tooth structure, they offer a few advantages. Maintaining the integrity of your facial structure is considered the biggest advantage, but there are others, like the positive impact dental implants have on your diet after losing a tooth.
Your natural teeth have nerves that communicate with your brain, letting it know how hard or soft you have to chew your food. With dentures, there is no nerve connection with the brain, making it difficult to know how hard or soft to chew your food, which is why it takes people some time to get used to having dentures. The fact that dentures sit directly on top of your gums is another problem people have to deal with because the force exerted by chewing can affect the soft tissue in gums, leading to inflammation.
With dental implants, you do not have to worry about the nerve connection because they provide a more comfortable bite due to the fact that they are permanently fixed in your mouth and you do not have to worry about them affecting the soft tissue in your gums, causing inflammation and tenderness like dentures do.
Appearance and maintenance
Dental implants are not only structurally close to natural teeth, but they are also hard to differentiate from natural teeth in terms of looks. They also do not require any special attention to maintain because you clean them like you do your natural teeth, unlike dentures, which require special cleaning solutions and an adhesive to keep them in place.
The bottom line
If you have missing teeth and are contemplating getting artificial teeth, dental implants are a great option because they are as close as you can get to natural teeth. Talk to your dentist to find out if your gums are healthy enough for the procedure.
Are you considering dental implants in the Marietta area? Get more dental implants information at https://www.drhai.com.
---
Related Posts
March 15, 2017
As a cosmetic dentist in Marietta, we can replace your teeth using dental implants. Tooth loss is something that impacts most people at some point in their lifetime. Even those who are fastidious about oral …
---