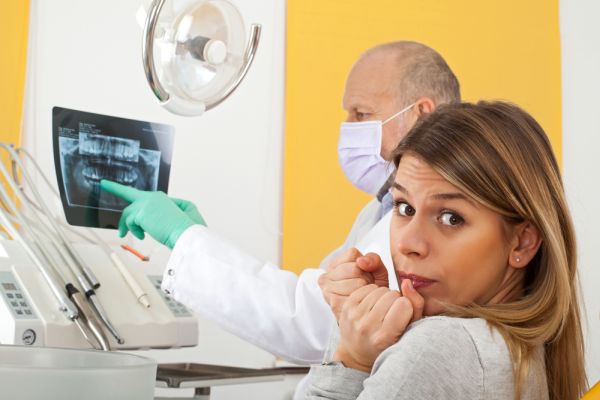 There is no reason to keep your dental anxiety a secret. Let your dentist know you are anxious about the upcoming cleaning, exam, treatment or procedure. The dentist will explain the procedure in-depth so you know exactly what is going on. Once you have a full understanding of what is happening in your mouth, you will feel more comfortable. Some dentists are willing to go as far as discussing other subject matter during treatments or procedures to alleviate patient anxiety.
Tips to help dental anxiety
Hold onto something
Do not strike down this suggestion as childish. Holding something really can alleviate dental anxiety. Youngsters might find holding onto their favorite stuffed animal makes the dental appointment that much more tolerable. Adults can also benefit from holding something. From stress relief balls to worry stones, hand grips and beyond, there are numerous objects available that will minimize adult dental anxiety.
Silently repeat a mantra or self-affirmation
Though this may seem like an odd strategy to reduce dental anxiety, it works for plenty of patients. A mantra as simple as, "I am safe and I will make it through this procedure," just might calm the nerves and shift focus away from the work being done in the mouth.
Use the mind's eye to focus on something aside from the dental work
Patients can try to close their eyes, imagining themselves on a beach or another peaceful setting, and then find that the dental work is not as intimidating as originally thought. Such visualization techniques will temporarily remove one from the dentist's chair and into a "happy place" where there is minimal pain. Tap into the power of the mind's eye to no longer be as anxious about the procedure or treatment.
Consider sedation dentistry
Sedation dentistry just might be the optimal solution for dental anxiety. Opt for sedation dentistry to sleep right through the dental procedure and wake up feeling relaxed and content. Ask those who have tried sedation dentistry about the experience, and most will testify that it turned a lengthy procedure into one that lasted merely a couple minutes. More importantly, sedation dentistry is painless. It will not take long for dental anxiety to fade after trying this painless form of dentistry.
Our gentle dentist is a call away
Give our office a call, schedule an appointment and you will find our dental team will go to great lengths to keep you comfortable. It does not matter if you are nervous, fearful or both. We will treat your teeth and gums with the highest level of care and do everything possible to maximize your comfort.
Request an appointment in our Marietta dentist office here: https://www.drhai.com.
---
Related Posts
June 2, 2018
Dental anxiety is a serious issue that often leads those afflicted into skipping dental appointments. This type of anxiety only makes things worse, since ignoring dental issues will lead to more serious complications and higher …
---